News
Explore the £10M campaign to promote beer drinking
Beer drinkers and pub landlords alike have been licking their lips over a new campaign which promotes beer drinking in Britain.
There's A Beer For That
, a £10M campaign run by the British Beer Allowance and backed by campaign groups like
CAMRA
, is designed to get people thinking differently about beer. The purpose of the campaign is to emphasise beer's status as Britain's national drink. It also shows off the great diversity of beers available in Britain, proving that there is a style of beer to suit every palate and occasion. Those in the brewing and pub industry hope that customers will be encouraged to go out and discover the perfect beer for them. It is also hoped that the campaign will change how people perceive beer and beer drinkers. Beer shouldn't be thought of just as a drink for men in dusty jackets, to be consumed only in darkened rooms. This campaign emphasises brewing as a craft, and quality beer as a way of bringing people together. There's a beer for every occasion, whether its after-work drinks or a roast dinner.
#BeerMatch
One of the most innovative corners of the campaign is an instant recommendation service conducted over Twitter. The hashtag system has been developed to give an instant beer recommendation from some of Britains top beer experts, depending on what kind of food you are eating. All you have to do is tweet the name of a food to @BeerForThat with the hashtag #BeerMatch and a top beer sommelier will reply instantly with a brand and style to match your choice.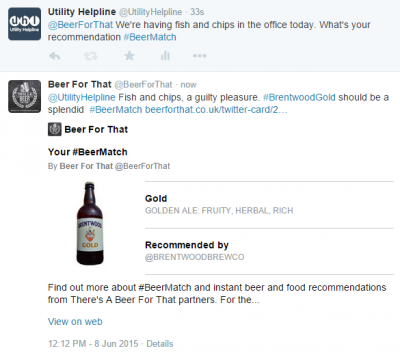 They recommended we partnered our fish and chips with Brentwood Gold, which we agree is a fine choice.
Discover the right beer for you
The campaign website also includes a 'Beer Explorer' which you can use to find the perfect beer for you. You simply type in the type of beer or flavour which you are looking for and the engine will deliver some recommendations based on your tastes. For example if you wanted a spicy ale with a note of pineapple, then the explorer would tell you to drink a Fuller's No.3 Reserve (although we probably wouldn't recommend it).
Beer Day Britain
The part of the campaign which we are most excited about is almost definitely
Beer Day Britain
, due to take place next weekend on the 15
th
June. According to the website, this date is significant because it commemorates the date that the Magna Carta was first sealed 800 years ago in 1215. Article 35 of the charter stated that there should be a single measure for ale throughout the kingdom thus cementing the humble pint's place at the centre of British life. We look forward to raising a glass and joining in the national cheers due to take place at 12.15pm.
Watch the extended advert
You can see the extended television advert by acclaimed director Michael Winterbottom below. https://www.youtube.com/watch?v=K_Z1Jmhm_iI
Do you run a pub or a brewery? Find out how Utility Helpline can help you reduce your energy bills by calling 0800 043 0423. For more information visit our publican and licensed page.
Published by Utility Helpline on (modified )
Talk to us about how we can save you money