News
How the right kitchen appliances can save energy
Your latest domestic energy bill may well, even now, be stuck up on the fridge, next to the magnetic letters the kids use to spell rude words they shouldn't even know.  And the bill for your commercial kitchen will make for equally unpleasant reading. However, while we're in the kitchen, let's spend some time thinking about energy efficiencies that might be made, to bring those business energy bills right down to size.
Fryers
We live in a more health-conscious age and fryers, especially deep fat fryers are less common in a domestic setting.  Having said that, they do still exist and are also much more economic to run, with new technologies such as intelligent filtration systems to indicate when the filter needs changing, and more efficient gas burners and oil wells.  Modern fryers will therefore retain more heat through better-designed heat exchange and burner design, leading to faster cooking times.
Combi ovens
Combi ovens are becoming much more ubiquitous in modern commercial kitchens.  Much of their popularity is down to the fact they have faster cooking times and can therefore half energy use.  They are named "combi" because they offer a combination of cooking methods, using both steam and convection.  Again, technology is improving to include triple-glazed windows for viewing the food as it cooks, variable fan speeds and automatic switch-offs for the fan if the door does need to be opened.   Some models even re-use the exhaust heat to warm up waste water, to create stream
Microwave ovens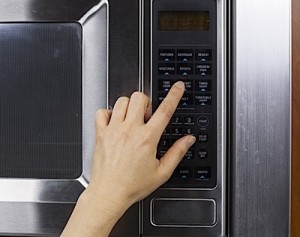 We are now all used to microwave ovens (rather than the 'science ovens' mentioned in the film "American Hustle"!)  There are many benefits to cooking with microwaves.  You don't need to warm them up, for instance, like a conventional oven, or pre-heat them in any way.  And when they're not being used they demand little energy, in terms of cooling down etc.  More modern ovens also use infrared or ultraviolet light to cook food, whilst others are "combi" ovens that also use convection technology to function as a normal oven. Whichever model you choose however, you are likely to use about 80% less energy than a normal oven, especially useful when preparing small amounts of food.
Hobs
Induction technology works by only turning on when the pan is actually on the hob.  More modern designs take this even further, with timers, for instance, so you can pre-arrange your cooking to suit your schedule, and sensors to detect when the food is ready to cook.  The oven is therefore able to switch off if the pan is not put onto the hob, and go into 'sleep' mode.  With electric ovens, an induction hob is likely to halve your energy use when cooking.
Steamers
Again, modern designs have brought an old technology up to speed.  Contemporary steamers boast better systems for delivering the steam, and reduce loss of heat with better insulation.  Such steamers also function without a drain or a boiler and use one or two gallons of water an hour, as opposed to older steamers that might use 40.  This obviously has great benefits on energy usage.
Grills
Another kitchen perennial, modern grills can be five times faster than an older style sandwich grill.   They can also use infrared sensors to detect when food is placed beneath, and they heat up in seconds.   Again, savings can be around 80%. There are simple steps everyone can take in the kitchen to save on energy, such as using the appropriately sized pots on correctly sized hobs.  However, when you come to upgrade your cooking equipment, consider these great ideas to further chip away at those energy bills.
Published by Utility Helpline on (modified )
Talk to us about how we can save you money