News
Utility Helpline delivers less stress and frees up time for small business owner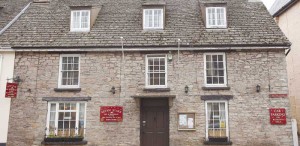 At the heart of picturesque Hay-on-Wye, Herefordshire, stands the wonderful Seven Stars.
With buildings dating back to the 16th Century, this charming guesthouse is an independent business owned and run by Diana Sime. Offering holidaymakers and weary travellers alike comfortable B&B accommodation, Diana relies on her ability to offer a cosy atmosphere and home from home hospitality. And that means keeping a large historic building warm in even the frostiest of weather.
Largely unaffected by the economic downturn and the slow climb back from recession, the Seven Stars owes its popularity in part to its charming location. Hay-on-Wye attracts an affluent crowd keen to experience the finer things in life, and the annual Hay Festival brings a flood of people to the town every year. But it's not just the beauty and culture of the surrounding area that has seen business growing.
As the economy recovers, the Seven Stars is seeing business increase as more guests come through the doors. And the popularity of the guesthouse has been helped by a commitment to providing great facilities, a superb level of service, and exceptional comfort. To keep each of the bedrooms, spacious dining room, and indoor swimming pool and sauna warm and welcoming takes a good deal of budgeting. And anywhere Diana can save a pound or two helps her make sure her guests are happy and keeps a smile on her face.
As a small business owner, time is precious for Diana. She has to balance the pressures of satisfying the needs of her paying customers with the day-to-day running of a dynamic, independent business. And as she explains, dealing with energy suppliers and managing bills often presents the biggest challenge. "Energy is the biggest hassle and expense I have to deal with. I feel that energy suppliers are not transparent in how they go about things; contractual notices change constantly and I have sometimes been quoted wildly differing figures for my bills."
To give small business owners like Diana the right energy deal possible, a different approach is needed. Not only were we able to find her a better deal on her energy bills, we've helped reduce the stress of dealing with suppliers. "Utility Helpline help to take the pressure off me – they know the contract rates and when renewals are due and back my corner with suppliers. When there's a dispute, they take care of everything and resolve the situation." "Their service is excellent - and they offer the right prices." If you're like Diana, you'll understand the importance of independence. But no matter what type of business you run, a bit expert advice can mean a big difference.
On a day to day basis, there are many simple ways you can manage your energy costs, including switching off lights, shutting computers down over night, and turning the thermostat down a degree or two. And if you need help managing your energy bills and reducing your costs, we can help find the right provider for you. That means a better deal for you and a brighter future for your business. Is managing your business energy eating into your valuable time? We can help - call us today on 0800 043 0423.
Published by Utility Helpline on (modified )
Talk to us about how we can save you money