News
Three questions you should ask your TPI before signing the contract
Third Party Intermediaries (TPIs) are organisations that offer advice and support for energy procurement. Energy switching websites count as TPIs, but more often than not businesses will choose to use an energy broker or another procurement intermediary company. Lots of businesses choose to use a TPI because it helps them get cheaper energy prices. But not all TPIs are equal. Most TPIs will be able to help you make better energy choices. However, there are a few bad apples that are operated in ways that don't benefit consumers.
Three questions
To help choose the best TPI for your business, start by asking these three questions.
Which suppliers do you represent?
Some TPIs only represent one supplier or a small group of suppliers. This significantly restricts your procurement options and makes it unlikely that you will get the right deal. Your TPI should visit as many suppliers as possible during tendering. At Utility Helpline, we visit dozens of energy companies in our five step procurement process. We only ever discount an energy supplier from our search if there is a very good reason for doing so, like we believe that they won't do a good job of looking after our customers.
How are your services paid for?
Different TPIs charge in different ways. Some prefer a one-off fee while other will include a commission in the rate offered to you from the supplier. If the TPI works on a performance related payment system then you should check that their target payments are reasonable and will not end up costing you more. There is no 'best' way to secure payment. What matters is what works best for your organisation and what you're goals are.
Are you subscribed to the TPI Code of Practice
The TPI Code of Practice is the benchmark standard that all high quality TPIs should meet. The code lays out a number of roles and responsibilities that intermediaries must meet if they want to maintain their place in the register.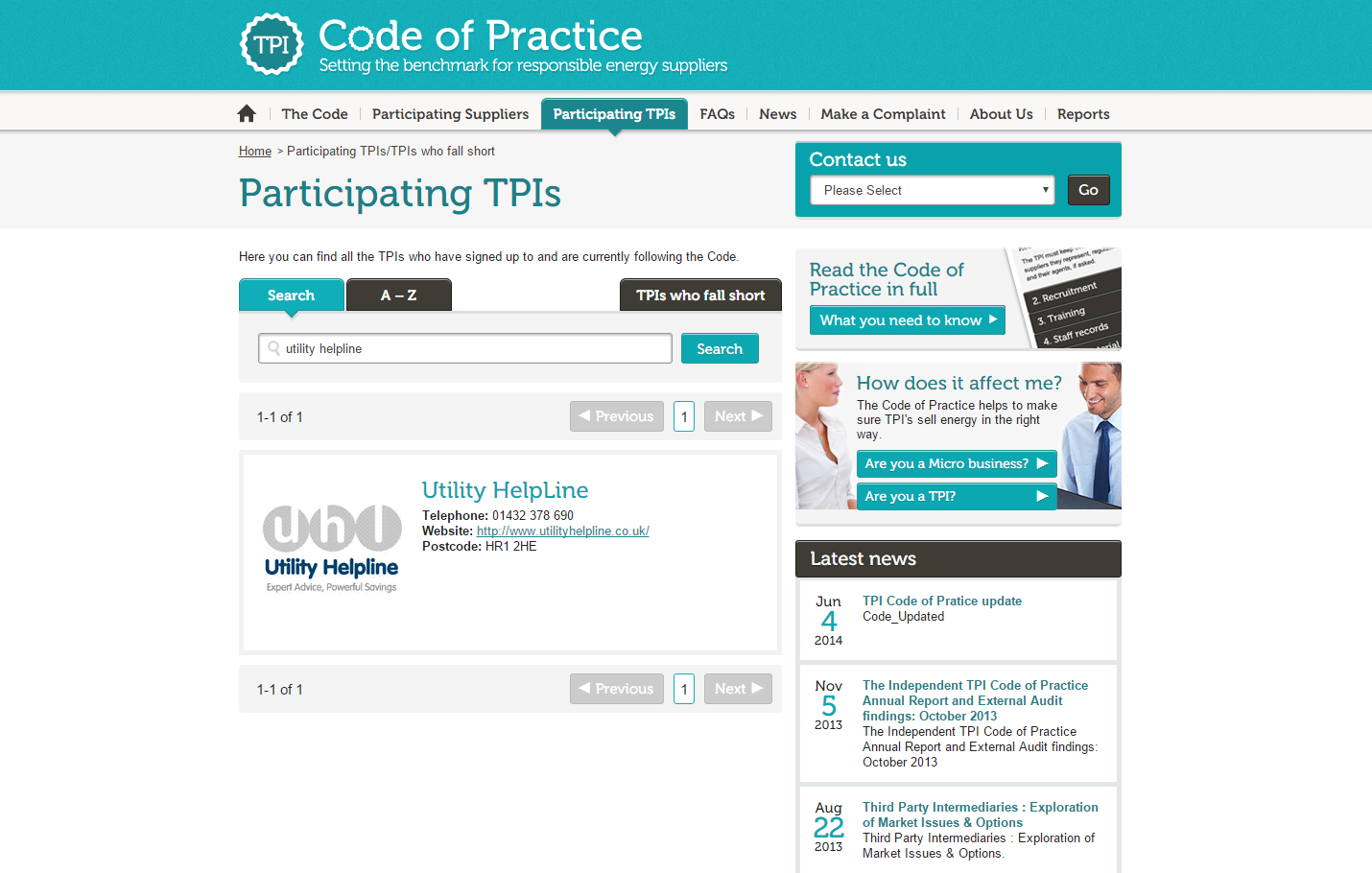 Utility Helpline is proud to participate in the scheme.
But don't let this put you off using a broker
There is a lot of doom and gloom in this post. But don't let that put you off using an energy broker. There are a number of advantages to using a TPI.
Few business energy prices are written down and a TPI will help you contact dozens of suppliers to get the best quote.
Brokers have good industry links and know where to get the compeititve deals
They can also tell you which suppliers are good for certain things and help tailor an energy contract around your needs.
Good TPIs will make themselves available to offer purchasing advice whenever it is required.
Utility Helpline work hard to get business customers the right deals on their gas and electricity supply. To find out more about our procurement services or for any advice regarding your situation please get in touch. Call: 0800 043 0423.
Published by Utility Helpline on (modified )
Talk to us about how we can save you money