News
A Twitter Guide for Pub Landlords
Utility Helpline and our associated partners have worked with licensees for a long time and we have seen the value that great online marketing has brought for many pubs. Pubs can be sceptical about using one important tool, social media; some pub and bar landlords just don't see how it will make a difference. We believe Twitter is a great way of realising some of your business goals. Whether it's letting customers know about your latest offers, or perhaps drawing in a younger crowd, the power of social media can make a difference. But getting it right is essential. We've collected some of our favourite examples of pubs and bars on twitter and analysed what it is that they've done right. Take some lessons from the twitter experts!
Use Twitter to help develop your pub's brand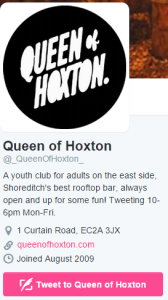 Your twitter bio and profile picture should give customers a very quick indication of exactly who you are and what your pub is about. Attention spans on Twitter are quite short, so it's important to get straight to the point. The
@roseandcrownpub
in London has done this very well. They list what kind of nights you should expect to find there and leave handy signposts like 'Pub of the Year East London' to help people get a feel for the place (without boasting too much). When creating and updating a twitter profile, your brand is everything. You should really think about your establishment. Evaluate its strengths, what it does well and what kind of customers you want to attract. Your pub's 'brand' will usually depend on what type of pub you run and where it is situated. The
@_QueenOfHoxton_
 for example is a bar in the middle of fashionable Shoreditch, while the
@HorseJockey
is a more upstanding 'community pub' in one of Manchester's leafy suburbs.
Twittiquette for Pubs
Tweeting is a great way to generate some free promotion, but remember, Twitter rewards those who stay 'on-brand' so make sure all of your tweets fit in with the establishment's 'message'. There are a number of great ways to do this and we've collected some of our favourite examples below:
Tweet your food
The
@TurksHeadTW1
in Twickenham try to get taste-buds tingling with their artisan sausages.
Meanwhile,
@TheForthHotel
in Newcastle retweets a follower who's obviously enjoying their meaty burger.
Talk about events
@roseandcrownpub
in East London retweets one of their performers and gets a lot of Twitter attention.
We particularly like
@TibStreetTavern
and their ultra-sleek graphic banner promotions.
Get involved with national celebrations
Here, the
@FabCafeManc
in Manchester is the undisputed champion.
Play to your local strengths
Talking about local events is a great way of getting local people interested. The
@TurksHeadTW1
in Twickenham obviously plays up to the local rugby culture.
Interact with your customers and suppliers
The
@SoupKitchen_Mcr
showing the right way to retweet about an event.
The
@jollybutchers
in London promote their suppliers to build stronger Twitter bonds.
Nation of
@shopkeepers
in Leeds make Cal's day while promoting their two for one burger offer.
And sometimes, the random posts are the right
Go on
@common_bar
lad.
Follow Utility Helpline on Twitter.
Published by Utility Helpline on (modified )
Talk to us about how we can save you money