News
Wholesale Energy Market update 12/5/17
UK prices - Data shows forward annual gas and electricity prices in the wholesale market.
Once again the market saw a week of volatility, ending in more price drops. Forecasts of warmer weather for Europe pulled energy prices down through the week but Macron's win in the French elections and encouraging US employment figures arrested any losses. There were also falls in coal, although these recovered slightly towards week end. Initial falls in oil continued through the week despite OPEC hinting they would extend production cuts. However, oil enjoyed a brief revival midweek as storage volumes dipped, boosting hopes of a recovery. Brent ended the week 3% higher at $50.84 per barrel.
Mid May UK energy market
Warmer two week forecasts for the UK ensured demand for gas fell with little effect from a short gas system. With maintenance causing downtime for some of the Norwegian assets plus the imminent arrival of a LNG cargo at Milford Haven, there was minimal market risk for traders. However, by Wednesday oil began to rise causing some upward movement in the market. Renewables output was fairly low through the early week (although rising towards Saturday), causing prices to be less subdued, despite electricity following that of gas. Two nuclear stations that were down were expected to recommence operation for the weekend.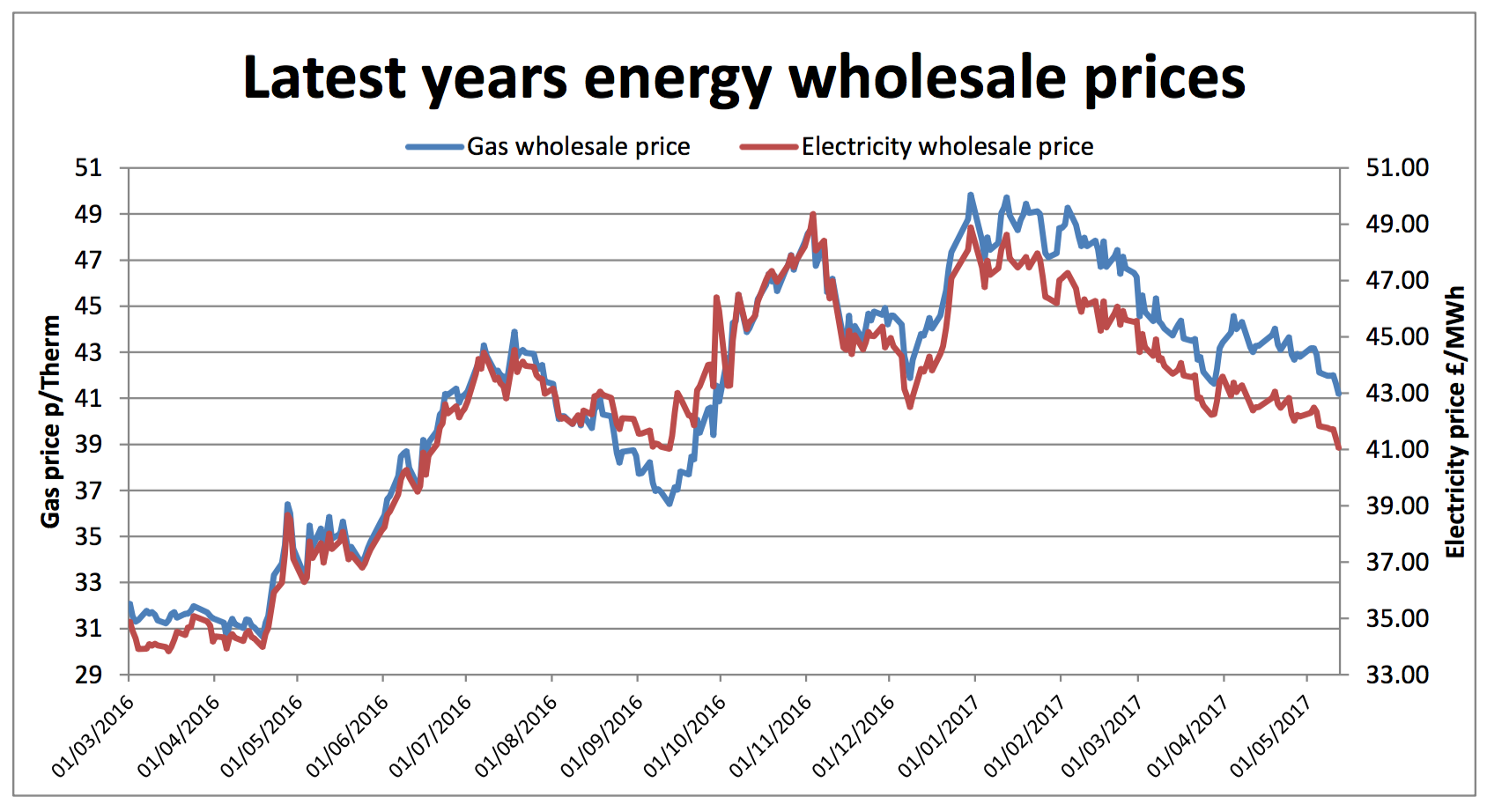 Energy market outlook May onwards
Markets were generally depressed and all contracts were down between 1% and 2% with gas falling further than electricity. Despite oil prices remaining within a tight band, mainly owing to the fine balance between the increase in American production and the continuing OPEC cuts, this had minimal impact on the UK market. The UK issues are the key driver and continuing gas availability is putting little upward pressure on prices. As in recent weeks, we recommend those clients wishing to play it safe to consider their contracts now. Those happy with some risk still need to monitor the markets closely in order to be ready for possible fluctuations.
Published by Utility Helpline on (modified )
Talk to us about how we can save you money