News
Wholesale Energy Prices Update 29/3/2019

Wholesale energy prices corrected last week, with all recovering some of their value. Oil prices rose for the first-time weeks as confidence in OPEC production fell to its lowest level since 2015 in March. This price rise was despite US supply, which continues to grow and mounting concerns about a global market slowdown. European carbon prices also increased, rising 4% from the previous week. The pound also retreated from recent highs as the Brexit process stalled again. Brent closed the week up 2% at $68.39 a barrel.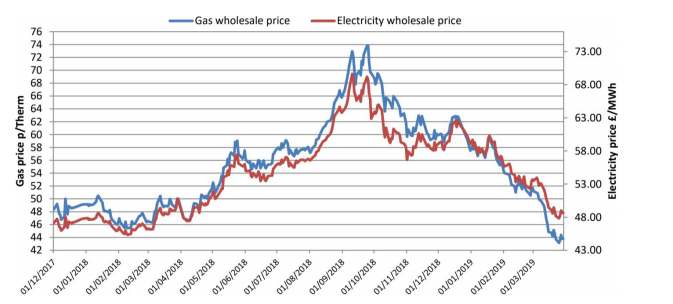 UK Business Energy Prices
In the UK, the gas system was well supplied. There were a few issues in the North Sea with planned an unplanned outages interrupting the flow of gas. But more LNG cargoes kept upward price pressure to a minimum. Lower temperatures are forecast for this week, which will lead to more demand and higher prices. Lower wind output this week will also redirect more natural gas to gas-powered electricity generators – again increasing demand and pushing up prices. Electricity prices tracked gas prices for the most of last week, but the recovery in carbon prices brought some upward pressure. All contracts rose last week. Short term 2019 prices saw the smallest gains due to an advantageous supply position. Prices for 2020 and 2021 saw more pronounced increases. This is due to the longer-term impact of rising oil and carbon costs. With the impact of Brexit still unknown and a no-deal exit seemingly more likely, the pound is under a lot more pressure. Rising currency costs could push prices up significantly, especially if there is a no-deal outcome. Risk-averse clients may consider contracting now to avoid future volatility. Prices could still drop further, however, particularly gas prices if the weather stays mild. Some clients may want to wait and see before committing to a new contract. For advice with your business energy contract, speak to a member of the team today. Call: 0800 043 0423.
Published by Utility Helpline on (modified )
Talk to us about how we can save you money