News
Woolmer Green pub saves money with our business energy services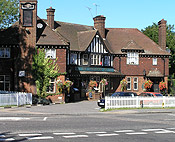 Here at Utility Helpline we help all manner of licensed trade establishments with their business energy requirements. In fact, it is one of many enjoyable aspects to acting as an energy broker that we become involved with so many varied and interesting businesses.
One such business is The Chequers Inn. Of course working with a pub presents its own temptations… especially when this is no ordinary pub. Equally, its management are no ordinary publicans.
First a little background, should you happen to find yourself in this particular – and very lovely - part of Hertfordshire. The Chequers Inn is based in Woolmer Green, which is quite near the Knebworth country park. It is an independent, family affair, run by Marian, Nick and Ben Darter. Historically a coaching inn on the route north from London, the premises now incorporate a traditional pub and restaurant, with B&B accommodation. Of course these are tricky times for the pub trade, with many pubs closing up and down the country, squeezed on the one hand by rising prices and on the other by the cost-cutting of their own customers.
These days pubs have to box a lot more clever, if they are going to make ends meet, and for the books to add up, come closing time. Fortunately for patrons of The Chequers, the Darter family are a creative, ingenious bunch, who find they are actually experiencing an upturn in their business. They have managed this through a mixed approach, firstly to saving costs, and secondly, to attracting more business.
In terms of the first aspect - to saving costs – several years ago the Darter family were able to turn to Utility Helpline to do something to address their spiraling energy bills. Rising energy bills can be especially pernicious to a small business; a heavy burden when every penny is important. With our help, The Chequers Inn have got to grips with this very important aspect to their overheads. If the Darter family showed vision in their decision to approach Utility Helpline, that is only in the context of a similarly visionary approach to their own business.
Realising that they needed to offer much more of an experience than somewhere simply to have a pint, they thought "outside the box"… or outside the pub and in the garden, to be precise. The Darter family used their outdoor space to build a zoo for small animals and birds, which instantly became an attraction for families, especially in the warm summer months of last year. Within the pub – and in acceptance of the important role of food for the business, the family introduced "Pie Days" two days a week, with the aroma of chunky, home cooked pies attracting crowds like the cartoon characters from the Bisto adverts. Further investment is taking place in 2014, with an al fresco dining area taking shape to offer additional facilities. So, a shining example of how to think creatively in difficult economic times. And don't worry - if you don't happen to have the space to build a zoo in your garden… at least be comforted you can pick up the phone and make the same call to Utility Helpline that set the Darter family on track for saving money. Start saving money off your energy bills today – call us on 0800 043 0423.
Published by Utility Helpline on (modified )
Talk to us about how we can save you money